Moderators: Seafarer228G, Potterbuilt
We have decided to put a kicker on our 2005 Escape 209. Either a Suzuki or Yamaha high thrust 9.9.

We want a fixed bracket without question for offshore beating. We have looked at the Salt Boss and the Adventure Marine.

If anyone has a kicker on their Grady … I have a few questions.

Do these brackets need to be through-bolted? What shaft length do you use?

How is your steering setup? Remote throttle? Do you all have aux tank for it?

Any other thoughts/pictures would be greatly appreciated because we are going for it.

This is not to argue the merits of having a kicker or not. We need advice from Grady owners with a kicker to another who is going to get one.

Thanks in advance.

SJ
2005 Grady White Escape 209 / Yamaha F200 "El Dorado"
1989 High Tide Super V-14 / 2003 Yamaha 25 2-Stroke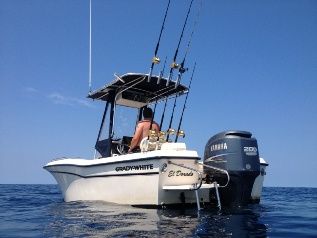 Posts: 41
Images: 1
Joined: Dec Sun 02, 2012 11:34 pm
Location: Johns Island, South Carolina
---
I have a 94 208 with a Yamaha T-8 kicker with the 20" shaft.

It's mounted on a nice through bolted fixed bracket that our local Grady dealer in Campbell, CA sells.

I use the EZ-Steer setup for steering and it works well but is a bit of a pain to connect and remove when switching between the main and kicker. I just use the tiller for throttle control but I know several people who use the Trollmaster setup and are happy with it.

The kicker is fed from the same water separating fuel filter as the main engine with shutoff valves in the lines so that the motors can be isolated from one another. I'm not sure if that's really necessary but it seemed like a good idea at the time.

I was going to post some pictures of the bracket I'm using but all I get is a message that the board attachment quota has been reached?
If you want to PM me your e-mail I will send the pictures off.

Good luck.
94 208 Adventure
94 175 Johnson OceanRunner
Posts: 110
Joined: Jul Fri 25, 2008 9:03 pm
Location: Los Gatos, CA
---
---
Return to Tips, Modifications and Electronics
Who is online
Users browsing this forum: No registered users and 8 guests