Joined

Oct 12, 2017
Messages

2,290
Reaction score

653
Points

113
Location
Website
Model

Express 265
Its hard to describe in a post what takes a few seasons of experience to learn.
I can give you some bullet points;
The inlet is constantly changing....every six hours the tide goes in & out and it can go from dead flat calm to class 5 rapids in an hour or two.
That means you can leave when its pleasant and return to a frightful experience.
I suggest that you leave the kids behind while you learn the inlet. (I'm assuming Barnegat Inlet?)
Get out with someone with experience...on their boat or yours.
Watch what other guys do for a while
If you go slower than the water is pushing you from behind,
you can't steer.
When there are incoming swells against an outgoing tide you need to know what you are doing.
Standing waves are dangerous if you don't understand them. Watch youtube "Haulover inlet" videos..and don't do that!
If the length and weight of your boat are just right on a given day, you will stuff one over the bow and there is nothing you can do about it.
For God's Sake don't let anyone on the bow while traversing an inlet.
They dredge the north side channel, the south side is a gamble.
There are sand bars and breakers outside the inlet and sometimes inside the inlet! Barnegat is derived from Dutch, loosley translated "Inlet of the Breaking waves"
Just because a chart says 11 ft doesn't mean it can't be 3ft
The end of the north jetty is a foot underwater at high tide. Go around the Red tower marker. There are white/orange cans marking it on the outside. Don't be the guy that drives across it every year...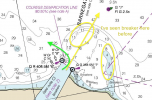 Last edited: